WHOS provides therapeutic programs aimed at achieving recovery from alcohol and other drug dependence, incorporating harm reduction and co-existing mental health initiatives. WHOS also provides programs to achieve recovery whilst stabilising on your Opioid Substitution Treatment (OST).
To get started, simply follow the steps below.
1. Step One: Select the program
Review the following table and links to the different programs that WHOS offers and select the one that is right for you.
WHOS Programs Admission Information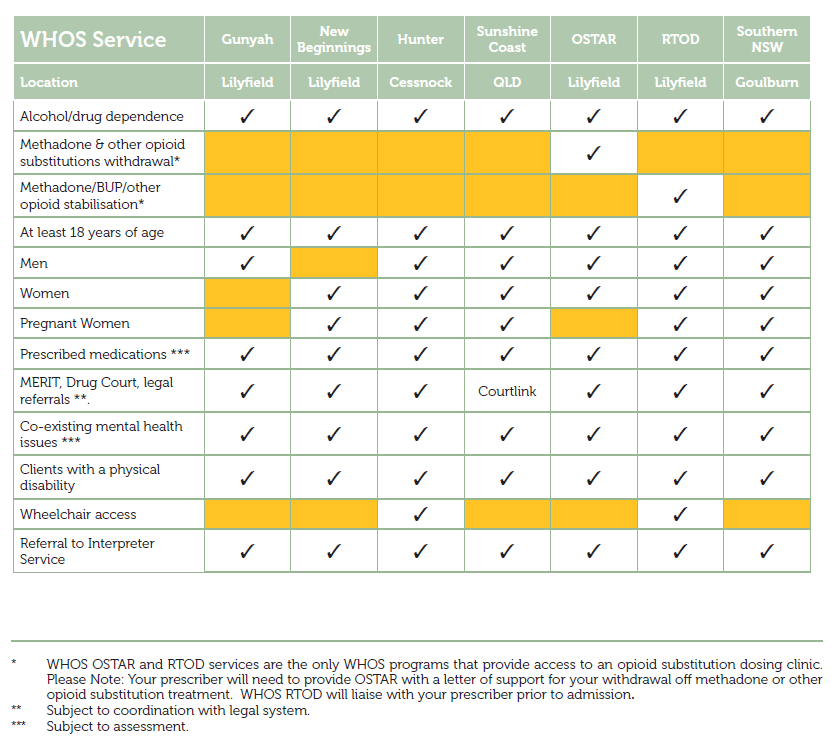 2. Step Two: Assessment
WHOS initial telephone assessments are carried out over the phone by staff Monday to Thursday 9.30am to 3.30pm.
Phone the program you are interested in for further information and a phone assessment. You can find WHOS phone numbers in the Contact us section. A WHOS staff member will take initial information from you,  and organise your admission process if appropriate.
Alternatively, you can fill in and submit Registration of Interest Form and a WHOS staff member will contact you between 1 to 3 business days to conduct full telephone assessment.
3. Step Three: Admission Preparation
If we are able to meet your needs, and when a bed becomes available, you will need to attend the facility of choice for an admission assessment, usually followed with immediate admission.
Follow the 'Admission Information' to ensure you are fully prepared for your admission to WHOS.
4. Step Four: Admission
On the day of an admission, arrive at WHOS for a final assessment. 
Prior to admission, your withdrawal management needs will be assessed by WHOS Withdrawal Management Nurses. If your withdrawal needs are deemed to be low to moderate with no complicating factors, then direct admission to your preferred program can be arranged and your withdrawal needs attended to by the WHOS nurses once admitted.
For more complex withdrawal needs, referral to an inpatient withdrawal management service may be required. A WHOS Withdrawal Nurse can discuss your options with you and decide the best referral pathway for your withdrawal needs prior to admission.
Please note, admissions are by appointment only, and no admissions are conducted on Fridays or the day before a public holiday.